For Tablescape Thursday hosted by Susan at
BETWEEN NAPS ON THE PORCH
. Be sure and visit her blog to see all the wonderful tablescapes!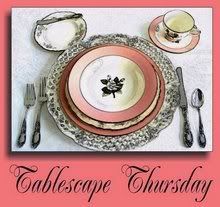 Since I shared my younger daughter's prom on this blog last week, I thought I would show you the Tablescape for my older daughter's senior prom in 2006. I was inspired to do an after the prom breakfast by my neighbor who had done the same thing for her son several years before. It has become a neighborhood tradition!
You will notice that I used the same paper plaid runner for this table. (I told you I had been lucky with spills!) The theme was something like "Tropical Beach." This was the first use of my blue and green goblets, which now are used all summer long, especially on our porch! I got them at CVS Pharmacy for 75 cents each. I made punch and served it from the silver punch bowl passed down from my grandmother.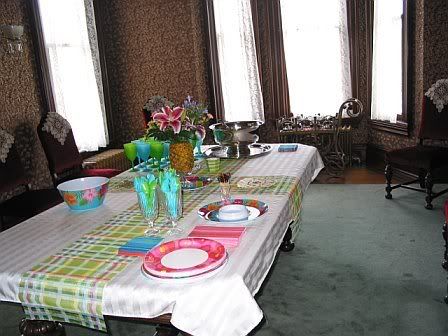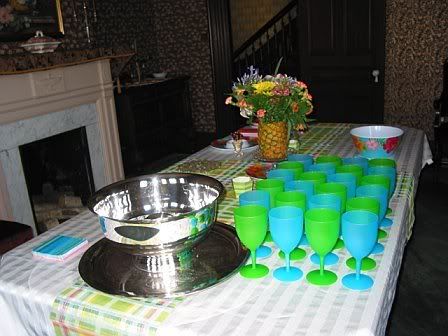 For my centerpiece, I hollowed out a pineapple to act as my vase. I got a mixed bouquet from Sam's Club (back when mine carried flowers) and arranged them in the pineapple.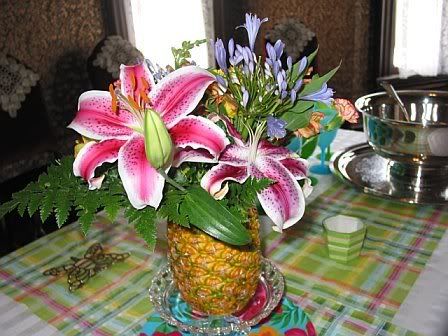 Here is my daughter and her date, who picked her up in a horse-drawn carriage!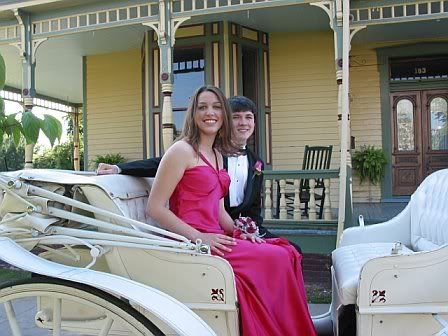 Be sure to visit Susan at
BETWEEN NAPS ON THE PORCH
for more great tables!
And can anyone tell me why the followers widgit is no longer working for me? It seems to have happened a week or so ago. I can't see who is following me and I can't follow anyone new. Help if you can please!!!!!!!!!