This is my Metamorphosis Monday hosted by Susan at
BETWEEN NAPS ON THE PORCH
.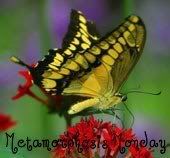 What I am sharing today is the renovation of my older daughter's room. This had to be the ugliest room in the house when we first moved in, but it had great potential. It has a bay window, fireplace coffered ceiling. She was adamant that she did not want her decor to be Victorian like the downstairs, so we let her design it herself.
Before -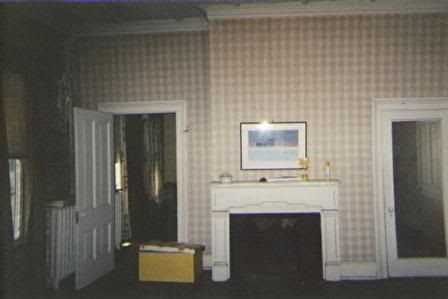 The air conditioning pan ran over before we bought the house and had warped some of the panels in the ceiling.
This was taken while we were stripping the wallpaper. There obviously used to be a picture rail - see the line and the different types of plaster over on the right. Also note that the plaster had never been painted. All throughout our house, we found unpainted scratch plaster that had never been painted.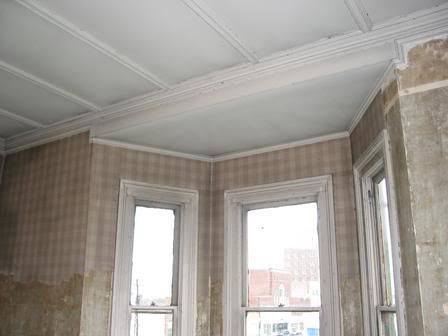 We painted the trim white and the walls blue as she wanted. All the bedding came from Target. The little blue loveseat came from Pier1 and folds out into a bed. It has come in handy for sleepovers. We replaced the overhead light with a ceiling fan. Here is the after: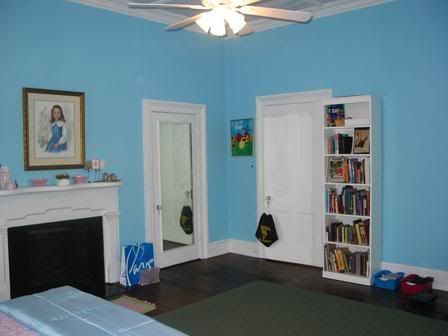 My daughter is now a Junior off at college, but still comes home - and brings friends! She is still enjoying this metamorphosis!
Thanks Susan for hosting another Metamorphosis Monday! I can't wait to see what wonders everyone will post! :D Jewel