For my Bridge Club dessert I decided to serve Rum Cake and fruit. I made my cake in a new toy, er, necessary cake pan that I just got. I decided to serve the cake and the fruit on the same platter and here it is: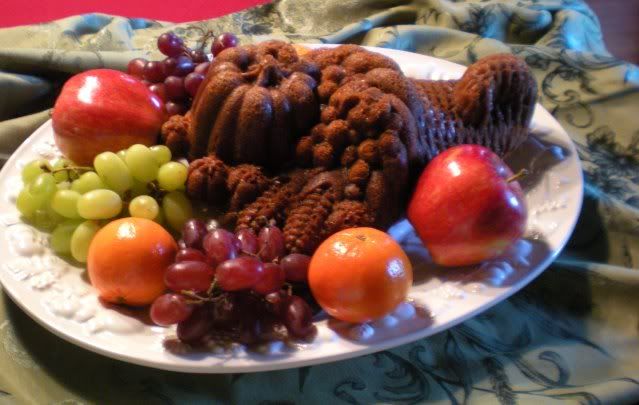 My rum cake is the tried and true Bicardi Cake recipe:
1 box yellow Pudding in the mix cake mix (I can never find the non-pudding kind anymore)
3 eggs
1/2 c. water
1/3 c. oil
1/2 c. rum (I use light - the recipe calls for dark, so use what you like)
Preheat oven to 325 degrees.
Prepare pan with butter and flour, Wilton's Cake Release or Baker's Joy spray
Mix ingredients until combined. Then beat on medium 2 minutes.
Pour into prepared pan and bake 50 mins to 1 hour until toothpick inserted in the middle comes out clean.
Cool 15 mins in pan.
Prepare glaze:
1/4 c. butter
1/4 c. water
1 c. sugar
1/2 c. rum
Bring to boil and let boil for 5 mins.
Pour most of glaze over warm cake still in pan and let it absorb. Then turn cake out and pour the rest on the top of the cake.
Here is my new pan: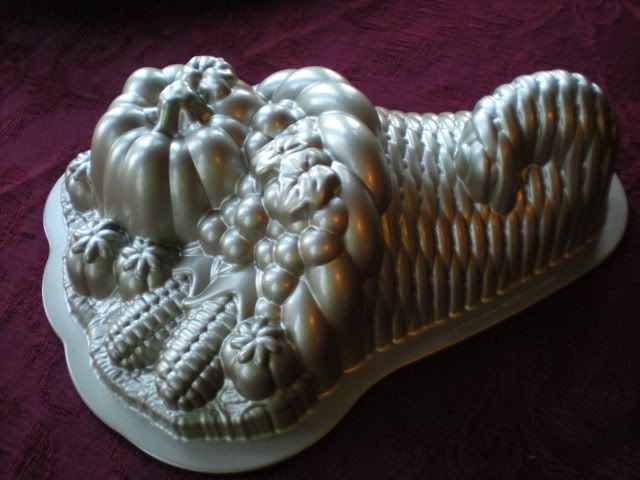 And here is a closer look at the cake:
I am linking to
Foodie Friday at Designs by Gollum
. Be sure and check out all the wonderful ideas on her site!