Outdoor Wednesday is hosted by Susan at A Southern Daydreamer. Be sure to stop by here blog and see all the gorgeous out door posts!
I was so excited for Outdoor Wednesday this week because I finally have some spring showing in my yard! I took my pictures right after I got home from work. Now as it has gotten a bit darker I downloaded them and even on the macro setting some didn't turn out too well. All of them seemed too blue until I realized that I had the White Balance set on Tungsten light. :( It is too late to take more, because I need to get supper going, so they'll just have to look a bit blue. LOL!
My first daffodils!!!!
Some snowbells - I know this is blurry!!!!
A crocus, not the first but still pretty even though it is growing sideways!!!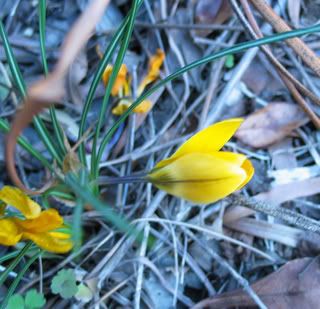 Sorry for the bluish tint!!! Thanks Susan for hosting Outdoor Wednesday!!!! :D Jewel