Tablescape Thursday is sponsored by Susan at Between Naps on the Porch.
For this Tablescape Thursday, I am sharing a table and party from almost 2 years ago. My younger daughter didn't know what she wanted to do for her 16th birthday. She wanted to have 10 or 12 friends over but couldn't think of a theme. When I received my Tea Time magazine and saw their idea for a Breakfast at Tiffany's theme, we were both excited. The magazine used Wedgewood china which is $ 700 or so a place setting!!!! Yikes! We decided to try and replicate the look for less.
We started out at Target, which happened to have some melamine plates on clearance in a shade close to Tiffany Blue. Then at TJ Maxx, we found large diamond paperweights like the ones featured in the magazine and at Michael's we found acrylic jewels to complete the look.
Here is the large table. I made slip covers for my chairs.
Here is the smaller table.
Here is a close up of the place setting. I borrowed gold-plated flatware from a friend.
Here is a close up of the centerpiece with a large "jewel."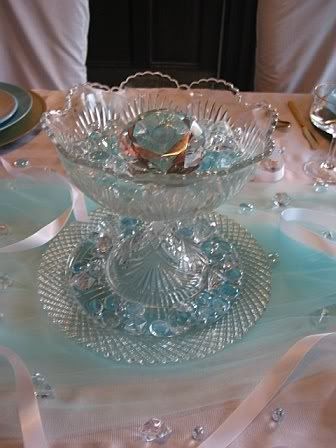 Here is my mantle.
Close up of the arrangement on the mantle.
We served "breakfast" food from the large buffet: quiche, bacon, danish, fruit with yogurt dip and chocolate fondue. My daughter spray painted the metal holder for the fondue pot gold.
On the small buffet we had her cake and my next door neighbor's vintage album cover.
A local bakery made the Tiffany Box cake.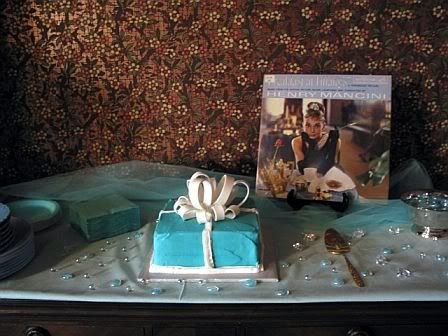 My daughter hand delivered the invitations which were wrapped to look like Tiffany Boxes.
Here is a group shot. Just to let you know - the cigarette and holder are theatrical fakes! Smoking is not allowed in my house at any age.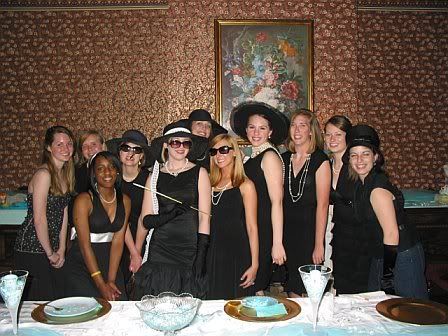 It was a birthday to remember! Next month another milestone 18 years old!!!! :D Jewel