As part of Tea Time Tuesday, I am recycling an old post. Hope you enjoy it.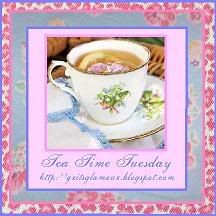 As alway, thanks to Barb for hosting Tea Time Tuesday at her wonderful blog,
Grits and Glamou
r. Make sure to visit her and see not only tea posts, but porch party posts as well!
As part of a tablesetting challenge at Recipezaar, I created this tea tablesetting inspired by this print:
Here is my table: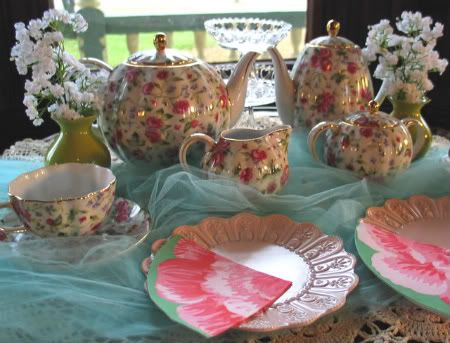 I used blue tulle to represent the water. The tea set is from Ross-Simons.The tea set has colors from the print and the two green vases add a touch of lily pad green. At first I tried to make lotus folded pink napkins, but my pink napkins aren't completely square and I didn't have any starch, so the lotus blossoms were a bit flabby. Then I remembered that I had these circular pink and green paper napkins from Target that I bought on clearance last spring. They add a nice touch also. The plates are from Yankee Candle and I bought them from Bed, Bath & Beyond for 10 cents each a few years back. I suppose they are meant to hold candles, but they don't say that they aren't food safe and they look like plates to me.
I couldn't find anything around the house to represent the periwinkle blue/lavender colors in the print. Those aren't shades I use a lot. On the whole, I am pleased with my effort!