It's Tablescape Thursday sponsored by Susan at
BETWEEN NAPS ON THE PORCH!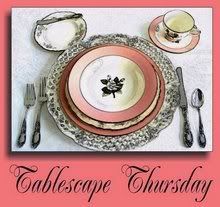 Thanks Susan for hosting Tablescape Thursday every week!
I am recycling a post from last year for this week's tablescape. Here it is:
As part of a tablesetting challenge at Recipezaar, I created this tea tablesetting inspired by this print:
Here is my table: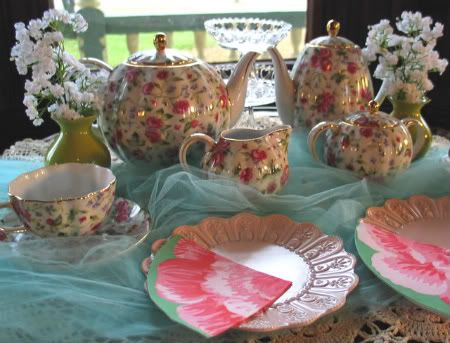 I used blue tulle to represent the water. The tea set is from Ross-Simons.The tea set has colors from the print and the two green vases add a touch of lily pad green. At first I tried to make lotus folded pink napkins, but my pink napkins aren't completely square and I didn't have any starch, so the lotus blossoms were a bit flabby. Then I remembered that I had these circular pink and green paper napkins from Target that I bought on clearance last spring. They add a nice touch also. The plates are from Yankee Candle and I bought them from Bed, Bath & Beyond for 10 cents each a few years back. I suppose they are meant to hold candles, but they don't say that they aren't food safe and they look like plates to me.
I couldn't find anything around the house to represent the periwinkle blue/lavender colors in the print. Those aren't shades I use a lot. On the whole, I am pleased with my effort!