Metamorphosis Monday is sponsored by Susan at
BETWEEN NAPS ON THE PORCH
. Make sure to visit her blog and see all the wonderful transformations!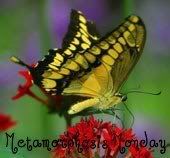 My before and after this week is something that has taken me a good bit of time this summer: Jean cloth mule-eared trousers and a hand stitched cotton shirt for my re-enactor husband.
I took period accurate cloth like this:
and turned it into
this
and this
The jean cloth is a combination cotton and wool and was so scratchy and hot to sew during the summer! I kept thinking what could be worse than sewing this and then I realized that the only thing worse would be wearing it for a weekend outside with no showers. But this is what DH likes to do in his spare time!!!!
Here is a close-up of the button fly. As I was hand stitching the buttonholes, I thought longingly of my 2 sewing machines with automatic buttonholers. The buttons are made of bone.
Here is a close-up of the back of the trousers and the buckle closing.
Here is the shirt. It is made without any pattern. All the pieces are rectangles and it has a gusset under the arm/sleeve. The buttons are made of glass.
So that's what I have been up to lately. Now stop by
Susan's blog BETWEEN NAPS ON THE PORCH
to see all the other transformations. :D Jewel