Thank you Gollum for hosting Foodie Friday at
Designs by Gollum
!
For this LATE Christmas Foodie Post, I want to share two Christmas Food Traditions with you. The first is Rum Cake.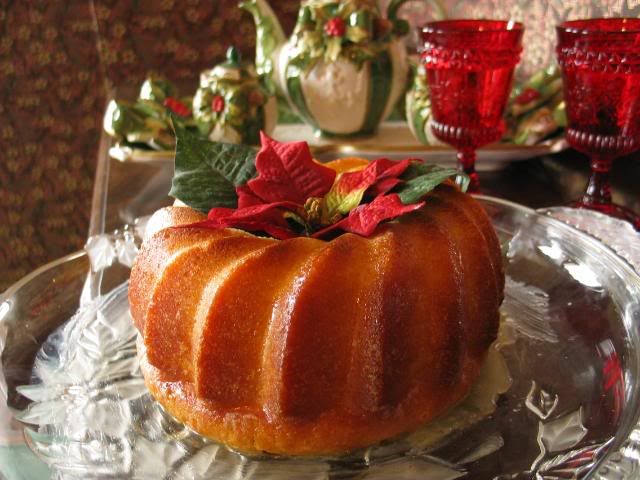 My mother made this when I was young and I have kept this tradition going with my family.
The recipe is from the Bicardi Rum Company but I make it with light rum instead of dark rum as they suggest.
Rum Cake:
cake
1 box yellow cake mix (not butter recipe or pudding in the mix) I prefer Duncan Hines Moist Deluxe Classic Yellow Cake
1 3 1/2 oz. box vanilla instant pudding mix
1/2 cup water
1/2 cup vegetable oil
1/2 cup rum
4 eggs
glaze
1/4 cup water
1/2 cup butter or margarine
1 cup sugar
1/2 cup rum
Preheat oven to 350 degrees. Grease and flour a large Bundt cake pan. Do not just use PAM or the cake will stick.
In a large mixing bowl combine all the cake ingredient. Mix with hand or stand mixer on medium for 2 minutes.
Pour batter into pan and bake for 45 minutes or until it tests done with a toothpick.
As soon as cake comes out of the oven, combine all glaze ingredients in a saucepan and boil for 5 minutes.
The standard recipe calls for turning the cake out onto a platter with a lip, poking holes in it with a fork and slowly pouring the glaze over the top of the cake. BUT here is how my mother taught me to do it: Just slowly pour the glaze on the cake in the Bundt pan while still warm. Let it soak in for a bit and then turn it out onto a cake plate or platter.
This cake is very moist and is even better the next day.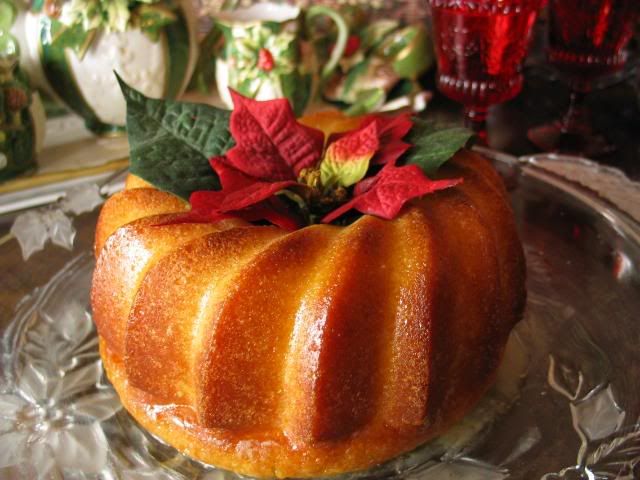 The next food tradition is our Christmas morning quiche.
I don't really have a recipe for this.
I use a Pillsbury pie crusts and unroll it into the quiche pan and blind bake it for about 10 mins at 325 degrees.
I spread a bit of Dijon mustard over the partially baked pie crust and spread a pound of sausage, cooked and drained over this. Then I add shredded cheese (whatever we have in the refrigerator) all over the top. Then I beat 4 eggs with some milk, salt and pepper and pour this over the sausage and cheese.
For a festive Christmas touch I add red and green bell peppers (which my daughters usually pick out as they eat!)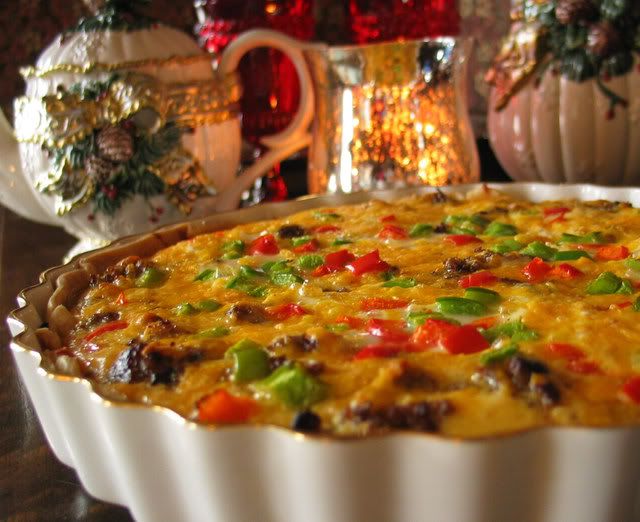 Thanks Gollum for hosting Foodie Friday!
I hope you all had a wonderful Merry Christmas!