It's Tablescape Thursday sponsored by Susan at
BETWEEN NAPS ON THE PORCH!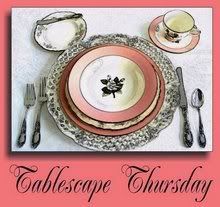 One of our favorite vacations in year's past has been to the Chesapeake Bay on the Maryland Eastern Shore. Alas, this year we have not been able to go, so I decided to do a table in honor of Chesapeake Bay crabs and corn. The campground where we usually stay always has plenty of crabs to catch and is right by a cornfield with a honors system payment box. There is not much better than fresh caught crabs and fresh picked corn, unless they are together in a chowder!
Here my table is covered with brown paper and the silver platter has a tea towel ready for the crabs and corn. I looked everywhere for our mallets to crack the crabs, but they were in our camper. The silver tray, the melamine shell plates, the flat crab plates and the butter knife/spreader on the right are all from Target several years ago. The cute crab bowls, the little salt and pepper shakers and the butter knife/spreader on the left are all from Le Gourmet Chef several years ago. The tea towel is from a boutique several years ago.
Now if I could just get the same wonderful crab and corn experience at home! Hope you enjoyed this table now make sure you visit
BETWEEN NAPS ON THE PORCH!
for more wonderful tables! :D Jewel