I can't believe that I started this blog five years ago today. I don't really know why I started it. I didn't imagine that anyone would find it interesting. I had never heard of Tablescape Tuesday (now Tablescape Thursday). I had been active in a Table Settings forum on a recipe site and thought it would be nice to have a way to save my tablescape pictures. Right after I published this first entry, I received two comments - then a third comment from Susan at
Between Naps on the Porch
inviting me to link up at her site. Through her site I have "met" many talented and kind bloggers. I will link this post to her Tablescape Thursday.
I have found that I am a very bad blogger. I get busy with work and family and don't get to post on my on blog or visit my friends' blogs. That being said, I am truly grateful for the friendships I have made with blogging and how tolerant these friends are of my lapses! Anyway, I have rambled on enough - here's to the last five years of blogging and many, many more in the future! Thank you! Jewel
I have decided to use this blog to catalog my table settings. The first table of the year is Winter Wonderland: Barely Blue.
I am submitting this for Tablescape Tuesday hosted by Susan (Between Naps on the Porch).
BETWEEN NAPS ON THE PORCH: Tablescape Tuesday
Thanks Susan!
I didn't want all the sparkle to go away after I put up the Christmas decorations, so I decided that I would create a Winter Wonderland of ice and snow. I spay painted limbs silver and used icicle and snowflake ornaments as well as strung acrylic "jewels" in "Barely Blue" shades. I used Tiffany Blue tulle as a table runner over a slightly off-white table cloth and tulle on the mantle. I put blue "marbles" and clear acrylic pieces that look like cracked ice in a vase to hold the limbs.
I put the vase in the center of a silver wreath from Target and filled in the gap between the wreath and the vase with silver and blue Christmas ornaments.
On the mantle, I put limbs in a blue round vase and made a bow from blue and silver sheer ribbon. I hung jewels, icicles and ornaments in silver and blue on the limbs.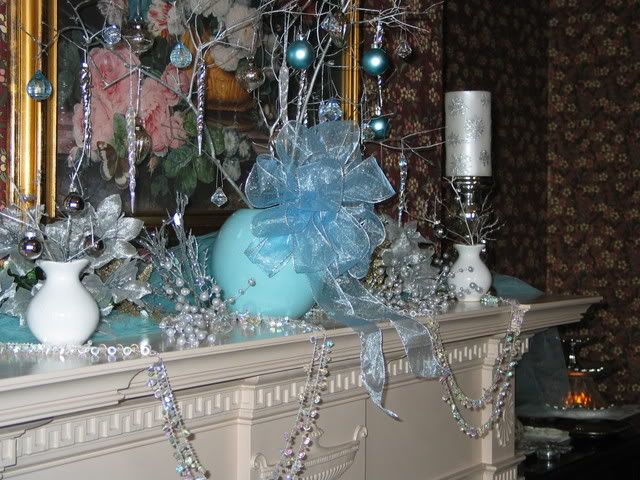 Beside the vase I put silver limbs and golden ferns from Target and silver poinsettias and wired pearls from Michaels. At the ends, I used silver mercury glass candle pillars with white fake candles embossed with silver snowflakes.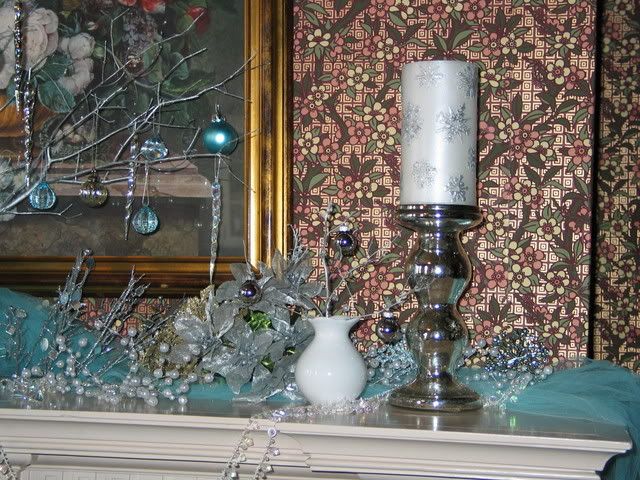 In the small white vases, I had small silver spray painted limbs with 3 silver ball ornaments.
On the table, I had mercury glass votive holders from Target in silver and icy green/blue, as well as two different types of clear snowflake holders. I also used small blue vases with white silk flower sprays. I also scattered acrylic jewels on the tulle.
At Cracker Barrel a few days after Christmas, I found these plates for 70% off. I originally thought my table would only have blue, silver and white, but these plates in ivory and gold were such a good deal I couldn't pass them up. The gold allowed me to use gold napkins and glassware with both gold and silver embellishment and I used gold and silver chargers. I also found ribbon with golden snowflakes at Michaels for 70% off which I tied for napkin rings.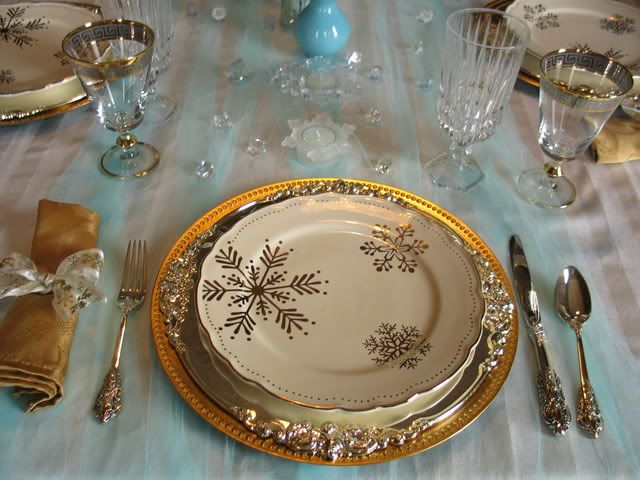 Before I found the ribbon, I used silver napkin rings
I will host my garden club on January 20th and use the table as a buffet. I am making cupcakes with fondant snowflakes. I have improvised a cupcake holder/tea tray with two platters and a cake stand from the 70% off Cracker Barrel sale, a flat topped glass bowl and a battery operated tea light.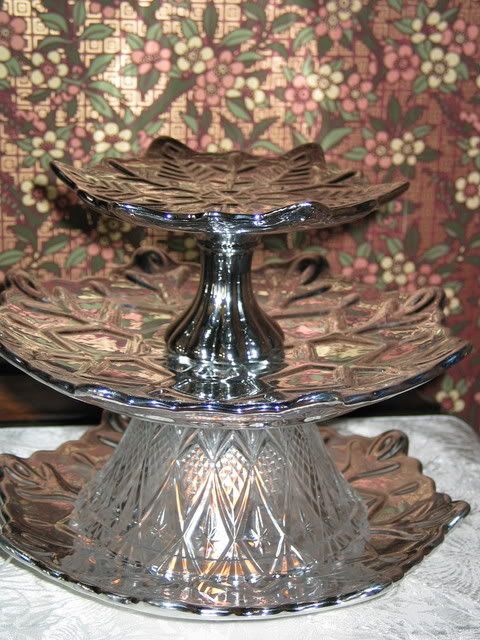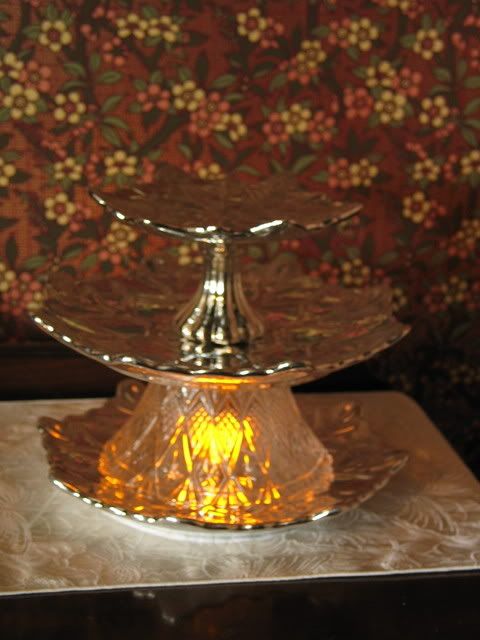 Comments and suggestions are welcomed! My table and this blog are a work in progress!